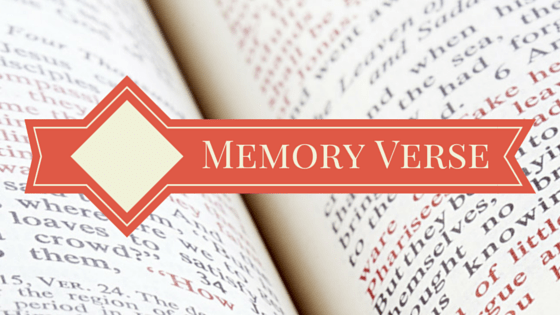 Memorizing scripture is a valuable way of imprinting God's Word in our hearts. Psalm 119:11 says, " I have hidden your word in my heart that I might not sin against you".
Consider memorizing scripture with us. The following are some great verses.


1 Chronicles 29:11


Yours,

Lord

, is the greatness and the power


and the glory and the majesty and the splendor,




for everything in heaven and earth is yours.


Yours,

Lord

, is the kingdom;


you are exalted as head over all.

NIV



2Corinthians 9:8




And God is able to bless you abundantly, so that in all things at all times, having all that you need, you will abound in every good work.

NIV
Jeremiah 17:7-8
7 "But blessed is the one who trusts in the Lord,
whose confidence is in him.
8 They will be like a tree planted by the water
that sends out its roots by the stream.
It does not fear when heat comes;
its leaves are always green.
It has no worries in a year of drought
and never fails to bear fruit."

Psalm 118:1
Give thanks to the Lord, for he is good;
his love endures forever.NIV

Philippians 4:8
Finally, brothers and sisters, whatever is true, whatever is noble, whatever is right, whatever is pure, whatever is lovely, whatever is admirable—if anything is excellent or praiseworthy—think about such things. NIV

Psalm 18:32
It is God who arms me with strength and keeps my way secure. NIV



Psalm 16:8


I keep my eyes always on the 

Lord

.
With him at my right hand,
I will not be shaken. 

NIV



Psalm 30:1-5
I will exalt you, Lord,
for you lifted me out of the depths
and did not let my enemies gloat over me.
2 Lord my God, I called to you for help,
and you healed me.
3 You, Lord, brought me up from the realm of the dead;
you spared me from going down to the pit.
4 Sing the praises of the Lord, you his faithful people;
praise his holy name.
5 For his anger lasts only a moment,
but his favor lasts a lifetime;
weeping may stay for the night,
but rejoicing comes in the morning. NIV


Isaiah 30:18
Therefore the Lord longs to be gracious to you,
And therefore He waits on high to have compassion on you. For the Lord is a God of justice;
How blessed are all those who long for Him. NASB

Romans 1:16
For I am not ashamed of the gospel, for it is the power of God for salvation to everyone who believes, to the Jew first and also to the Greek. NASB

Psalm 56:3
When I am afraid, I will trust in you. NIV

Isaiah 40:29-31
He gives strength to the weary
and increases the power of the weak.
30 Even youths grow tired and weary,
and young men stumble and fall;
31 but those who hope in the Lord
will renew their strength.
They will soar on wings like eagles;
they will run and not grow weary,
they will walk and not be faint.

Psalm 34:8
Taste and see that the Lord is good;
blessed is the one who takes refuge in him. NIV

Psalm 25:4-5
Show me your ways, Lord,
teach me your paths. Guide me in your truth and teach me,
for you are God my Savior, and my hope is in you all day long. NASB

Psalm 23
The Lord is my shepherd,I shall not want.2 He makes me lie down in green pastures;He leads me beside quiet waters.3 He restores my soul;He guides me in the paths of righteousness For His name's sake.4 Even though I walk through the valley of the shadow of death,I fear no evil, for You are with me;Your rod and Your staff, they comfort me.5 You prepare a table before me in the presence of my enemies;You have anointed my head with oil;My cup overflows.6 Surely goodness and lovingkindness will follow me all the days of my life,And I will dwell in the house of the Lord forever. NASB

Colossians 1:15-16
15 The Son is the image of the invisible God, the firstborn over all creation. 16 For in him all things were created: things in heaven and on earth, visible and invisible, whether thrones or powers or rulers or authorities; all things have been created through him and for him. NIV

2Corinthians 7:1
Therefore, since we have these promises, dear friends, let us purify ourselves from everything that contaminates body and spirit, perfecting holiness out of reverence for God. NIV

Hebrews 10:23-25
23 Let us hold fast the confession of our hope without wavering, for He who promised is faithful; 24 and let us consider how to stimulate one another to love and good deeds, 25 not forsaking our own assembling together, as is the habit of some, but encouraging one another; and all the more as you see the day drawing near. NASB

Romans 12:1-2
Therefore I urge you, brethren, by the mercies of God, to present your bodies a living and holy sacrifice, acceptable to God, which is your spiritual service of worship. 2 And do not be conformed to this world, but be transformed by the renewing of your mind, so that you may prove what the will of God is, that which is good and acceptable and perfect. NASB

Hebrews 12:1-3
Therefore, since we have so great a cloud of witnesses surrounding us, let us also lay aside every encumbrance and the sin which so easily entangles us, and let us run with endurance the race that is set before us, 2 fixing our eyes on Jesus, the author and perfecter of faith, who for the joy set before Him endured the cross, despising the shame, and has sat down at the right hand of the throne of God.3 For consider Him who has endured such hostility by sinners against Himself, so that you will not grow weary and lose heart.
Galatians 6:9-10
Let us not become weary in doing good, for at the proper time we will reap a harvest if we do not give up. Therefore, as we have opportunity, let us do good to all people, especially to those who belong to the family of believers. NIV
John 13:34-35




A new commandment I give to you, that you love one another, even as I have loved you, that you also love one another.

By this all men will know that you are My disciples, if you have love for one another."

NASB

Psalm 103:11-12
11 For as high as the heavens are above the earth,
so great is his love for those who fear him;
12 as far as the east is from the west,
so far has he removed our transgressions from us.NIV
Colossians 4:2
Devote yourselves to prayer, being watchful and thankful. NIV

John 8:36
So if the Son sets you free, you will be free indeed. NIV

Habakkuk 3:17-29
Though the fig tree does not bud and there are no grapes on the vines, though the olive crop fails and the fields produce no food, though there are no sheep in the pen and no cattle in the stalls, yet I will rejoice in the Lord, I will be joyful in God my Savior. The Sovereign Lord is my strength; he makes my feet like the feet of a deer, he enables me to tread on the heights. NIV

Galatians 6:9
Let us not become weary in doing good, for at the proper time we will reap a harvest if we do not give up. NIV

Mark 1:35
In the early morning, while it was still dark, Jesus got up, left the house, and went away to a secluded place, and was praying there. NASB
2Samuel 22:31
As for God, his way is perfect:
The Lord's word is flawless;
he shields all who take refuge in him.NIV
Mark 16:16
He who has believed and has been baptized shall be saved; but he who has disbelieved shall be condemned. NASB
James 1:2-4
Consider it all joy, my brethren, when you encounter various trials,
3 knowing that the testing of your faith produces endurance.
4 And let endurance have its perfect result, so that you may be perfect and complete, lacking in nothing.
NASB
Proverbs 3:5-10
Trust in the Lord with all your heart
And do not lean on your own understanding.
In all your ways acknowledge Him,
And He will make your paths straight.
Do not be wise in your own eyes;
Fear the Lord and turn away from evil.
It will be healing to your [a]body
And refreshment to your bones.
Honor the Lord from your wealth
And from the first of all your produce;
So your barns will be filled with plenty
And your vats will overflow with new wine. NASB
Acts 2:38


Peter said to them, "Repent, and each of you be baptized in the name of Jesus Christ for the forgiveness of your sins; and you will receive the gift of the Holy Spirit.

NASB



1 Corinthians 2:9
9 However, as it is written:
"What no eye has seen,
what no ear has heard,
and what no human mind has conceived"—
the things God has prepared for those who love him—NIV

1Corinthians 15:57-58
But thanks be to God, who gives us the victory through our Lord Jesus Christ. Therefore, my beloved brethren, be steadfast, immovable, always abounding in the work of the Lord, knowing that your toil is not in vain in the Lord. NASB

Lamentations 3:22-23
Because of the Lord's great love we are not consumed,
for his compassions never fail.
They are new every morning;
great is your faithfulness. NIV

Romans 6:23
For the wages of sin is death, but the free gift of God is eternal life in Christ Jesus our Lord. NAS
Psalm 100:5
For the Lord is good;
His lovingkindness is everlasting
And His faithfulness to all generations. NAS

Philippians 2:14
Do all things without grumbling or disputing. NAS

James 1:19-20
This you know , my beloved brethren, But let everyone be quick to hear, slow to speak, and slow to anger; For the anger of man does not achieve the righteousness of God. NAS

Colossians 3:1-3
Therefore if you have been raised up with Christ, keep seeking the things above, where Christ is, seated at the right hand of God. Set your mind on the things above, not on the things that are on earth. For you have died and your life is hidden with Christ in God. NAS

Acts 2:38
And Peter said to them, "Repent, and let each of you be baptized in the name of Jesus Christ for the forgiveness of your sins; and you shall receive the gift of the Holy Spirit". NAS

Col 1:19-20
For God was pleased to have all his fullness dwell in him, and through him
to reconcile to himself all things, whether things on earth or things in heaven,
by making peace through his blood, shed on the cross. NIV

Romans 8:28
And we know that God causes all things to work together for good to those who love God, to those who are called according to his purpose. NAS

Acts 4:12
And there is salvation in no one else; for there is no other name under heaven that has been given among men, by which we must be saved. NAS

Psalm 63:3-4
Because your love is better than life, my lips will glorify you. I will praise you as long as I live, and in your name I will lift up my hands. NIV

Jeremiah 29:11-13
For I know the plans I have for you," declares the Lord, "plans to prosper you and not to
harm you, plans to give you hope and a future. Then you will call on me and come and
pray to me, and I will listen to you. You will seek me and find me when you seek me
with all your heart. NIV
Matthew 6:33
But seek first His kingdom and His righteousness; and all these things shall be added to you. NAS

Matthew 28:18-20
And Jesus came up and spoke to them saying, "All authority has been given to Me in heaven and on earth. Go therefore and make disciples of all the nations, baptizing them in the name of the Father and the Son and the Holy Spirit, teaching them to observe all that I commanded you, and lo, I am with you always, even to the end of the age." NAS

Galatians 2:20
I have been crucified with Christ; and it is no longer I who live, but Christ lives in me; and the life which I now live in the flesh I live by faith in the Son of God, who loved me and gave Himself up for me. NASB

Isaiah 53:6
All of us like sheep have gone astray, each of us has turned to his own way; But the Lord has caused the inequity of us all to fall on Him. NASB

2 Chronicles 7:14
If my people, who are called by my name, will humble themselves and pray and seek my face and turn from their wicked ways, then I will hear from heaven, and I will forgive their sin and will heal their land. NIV

John 1:1&14
In the beginning was the Word, and the Word was with God, and the Word was God.
And the word became flesh, and dwelt among us, and we beheld His glory, glory as of the only begotten from the Father, full of grace and truth. NASB

Philippians 4:13
I can do all things through Him who strengthens me. NASB

Mark 10:45
For even the Son of Man did not come to be served, but to serve, and to give His life a ransom for many. NASB


1 Samuel 16:7
But the Lord said to Samuel, "Do not look at his appearance or at the height of his stature, because I have rejected him; for God sees not as man sees, for man looks at the outward appearance, but the Lord looks at the heart." NASB

1Thessalonians 5:16-18
Rejoice always; pray without ceasing; in everything give thanks; for this is God's will for you in Christ Jesus. NASB

2Corinthians 5:17
Therefore if any man is in Christ, he is a new creature; the old things passed away; behold, new things have come. NASB

Romans 8:28
And we know that God causes all things to work together for good to those who love God, to those who are called according to His purpose. NASB

Ephesians 2:8-10
For it is by grace you have been saved, through faith—and this is not from yourselves, it is the gift of God— not by works, so that no one can boast. For we are God's handiwork, created in Christ Jesus to do good works, which God prepared in advance for us to do. NIV

Mark 10:45
For even the Son of Man did not come to be served, but to serve, and to give his life as a ransom for many." NIV

2Timothy 3:16-17
All Scripture is God-breathed and is useful for teaching, rebuking, correcting and training in righteousness, so that the servant of God may be thoroughly equipped for every good work. NIV

Philippians 2:3-5
Do nothing from selfishness or empty conceit, but with humility of mind let each of you regard one another as more important than himself; Do not merely look out for your own personal interests, but also for the interests of others. Have this attitude in yourselves which was also in Christ Jesus, NASB

James 5:16
Therefore, confess your sins to one another, and pray for one another, so that you may be healed. The effective prayer of a righteous man can accomplish much. NAS
-------------------------------------------------------------------------------
Proverbs 3:5-8
Trust in the Lord with all your heart, And do not lean on your own understanding. In all your ways acknowledge Him, And He will make your paths straight. Do not be wise in your own eyes; Fear the Lord and turn away from evil. It will be healing to your body, And refreshment to your bones. NASB
Hebrews 11:1 & 6
Now faith is confidence in what we hope for and assurance about what we do not see. And without faith it is impossible to please God, because anyone who comes to him must believe that he exists and that he rewards those who earnestly seek him. NIV
---------------------------------------------------------------
Psalm 34:8
Taste and see that the Lord is good;
blessed is the one who takes refuge in him. NIV
---------------------------------------------
Isaiah 55:8-9
"For my thoughts are not your thoughts,
neither are your ways my ways,"
declares the Lord.
9 "As the heavens are higher than the earth,
so are my ways higher than your ways
and my thoughts than your thoughts. NIV
-----------------------------------------------------------------------------

Philippians 4:6-7
Do not be anxious about anything, but in every situation, by prayer and petition, with thanksgiving, present your requests to God. And the peace of God, which transcends all understanding, will guard your hearts and your minds in Christ Jesus. NIV
-------------------------------------------------------------------------------------------------
Psalm 118:24
This is the day which the LORD has made; Let us rejoice and be glad in it. NASB
--------------------------------------------------------------------------------------------------
John 15:5
"I am the vine; you are the branches. If you remain in me and I in you, you will bear much fruit; apart from me you can do nothing. NIV
------------------------------------------------
But the fruit of the Spirit is love, joy, peace, patience, kindness, goodness, faithfulness, gentleness, self-control; against such things there is no law. NASB
--------------------------------------------------
Colossians 1:28-29
We proclaim Him, admonishing every man and teaching every man with all wisdom, so that we may present every man complete in Christ. For this purpose also I labor, striving according to His power, which mightily works within me. NASB
--------------------------------------------------
Psalm 16:8
I keep my eyes always on the Lord. With Him at my right hand, I will not be shaken. NIV